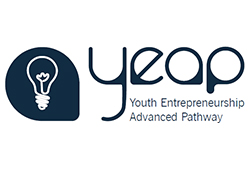 Youth Entrepreneurship Advanced Pathway – YEAP!
Duration:
01-06-2018 – 31-05-2020 (24 months)
Partners:

Folkuniversitetet , Sweden
Rinova Ltd , United Kingdom
M.M.C Management Center Limited, Cyprus
Federation of Hellenic Associations of Young Entrepreneurs, Greece

Website:
tbc
Authority:
National Agency Sweden
Program:
ERASMUS+
Project Description
The main aim of the YEAP! project is to develop a set of activities and a variety of methodological approaches to support young people integrate into the labour market either as entrepreneurs or as self-employed. The main output will be the "YEAP! Flexible Learning Pathway" accompanied by a Methodological Guide and a Toolbox addressed to youth workers and a Business Idea Assessment Guide in order potential youth entrepreneurs to assess their business ideas. Moreover, an e-tool database will be developed aiming to promote entrepreneurship and to strengthen competences of young entrepreneurs.