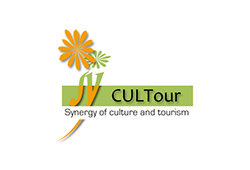 SY-CULTour – Synergy of culture and tourism: utilization of cultural potentials in less favoured rural regions
Duration:
02-08-2012 – 01-06-2014 (22 months)
Partners:

Scientific Research Centre of the Slovenian Academy of Sciences and Arts, Anton Melik Geographical Institute (ZRC SAZU), Slovenia
Mountain Community Sirentina (CMS), Italy
Heraklion Chamber of Commerce and Industry (HCCI), Greece
Central Transdanubian Regional Innovation Agency Nonprofit Ltd. (CTRIA), Hungary
Municipality of Jesenice, Slovenia
Pazardzhik Regional Administration (PRA), Bulgaria
Autonomous Province of Trento – Division for the Surveillance and Promotion of Agricultural Activities (PAT), Italy
University of Novi Sad, Faculty of Sciences (UNSPMF), Serbia
Chamber of Economy of Vojvodina, Serbia

Website:
www.sycultour.eu
Authority:
Region of Thessaly
Program:
South East Europe, Transnational Cooperation Programme
Project Description
The SY_CULTour project determines the typical culture of certain rural area as a development source, since it is locally defined and most often connected to the areas national characteristics and can therefore offer an expressed competitive advantage over other areas.
The aim of the project SY_CULTour was to improve the management of cultural values in rural areas in order to increase their economic and social development. SY_CULTour developed and promoted a common methodology for management of cultural values in rural areas based on a participatory approach to stakeholders.
The methodology helped to create new non-massive rural cultural tourism destinations in order to generate new income and jobs in tourism. It was applied and tested in pilot areas where cross-sectoral networks were established comprising of local and regional public bodies and tourism providers.
The project was implemented on behalf of the Region of Thessaly.