MaYFAir – Mobility For All: the Fair Choice
Duration:
01.09.2019 – 30.04.2022 (32 months)
Partners:

ALPHABET FORMATION, Belgium
ERIFO: ENTE DI RICERCA E FORMAZIONE, Italy
UNITELMA: UNIVERSITA DEGLI STUDI DI ROMA UNITELMA SAPIENZA, Italy
FYG CONSULTORES: INSTALOFI LEVANTE SL, Spain
CENTRO SAN VIATOR, Spain
DIMITRA Education & Consulting, Greece
CESFOR: CENTRO STUDI FORMAZIONE ORIENTAMENTO, Italy
IFAPME: CENTRE DE FORMATION PERMANENTE DESCLASSES MOYENNES ET DES PME DE LIEGE, HUY, WAREMME ASBL, Spain
SIVITANIDEIOS DIMOSIA SCHOLI TECHNON KAI EPANGELMATON, Greece


Website:
https://mayfair.projectlibrary.eu/en/
Authority:
European Commission
Program:
   ERASMUS+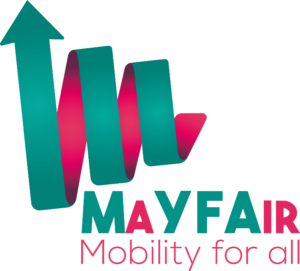 Description
MaYFAir designs, develops and tests a methodological kit and a MOOC for mobility promoters, in order to promote the capitalization of the learning outcomes achieved during a mobility for the purpose of allowing the certification of competences in national systems.
The project involves 9 organizations from 4 countries: 1 Vet provider involved in the national certification system and 1 Vet Mobility Charter owner per country. Moreover, the project involves the participation of UNITELMA, an Italian online University, which will guarantee the scientific value of the project results and allow the issue of a certification with legal validity at European level to MOOC participants.
The project will be based on a strong cross-sectorial and collaborative participatory approach that is meant to take the most advantage out of the involvement of VET Providers and VET mobility Charter owners. Throughout the whole duration of the project and phases, all the partner organizations will cooperate tightly to create innovative methodologies and a set of tools to support the professional development of staff involved in WBL schemes for high-quality services and performance delivery.
The final objective of the project is to increase the WBL attractiveness across EU by improving competences of those profiles working with WBL programmes both in "sending" and in "hosting" organizations.